I read today that one of the biggest influences in my life, one of my earliest mentors passed away on Sunday. I have
written here before
about radio talk host, Mark Scott, and shared the impact this man has had on my life.
This from the
Detroit Free Press
MARK SCOTT — 1936-2005: Acerbic radio personality was much-loved, reviled

April 27, 2005

BY JOHN SMYNTEK
FREE PRESS STAFF WRITER

He began each radio show with the soaring guitars of George Thorogood and the Destroyers from "Bad to the Bone," and he always ended with the clarion cry of "Excelsior!"

In between was a singular mix of conservative and libertarian talk, occasional health and fitness insights and rightist certitude that made Mark Scott one of the highest-rated -- and in some circles, most-hated -- radio voices in Detroit during the 1980s and '90s.

Scott, 69, of Commerce Township died Sunday of a heart attack at Providence Hospital in Southfield. His wife of 29 years, Leslie Scott, said he had been plagued with heart problems in the past year. His broadcast career ended in early 2004 when he left the Michigan Talk Radio Network in what he said was a rift over nonpayment of his salary.

The road to talk-radio glory was indirect for Scott. He attended five colleges and logged combat service as a Marine in the Korean War, his wife said. After the military, his wife said Scott worked for California evangelist Garner Ted Armstrong's Worldwide Church of God, writing the scripts for Armstrong's purchased-time telecasts that mixed the apocalyptic and the political in the 1960s.

After leaving Armstrong, he bounced around radio and television, working in Ohio, Georgia and Kentucky until 1981, when programmer Michael Packer brought him to WXYT-AM (1270) in metro Detroit.

Packer recalled Scott was "an instant success ... He helped us turn the station around from 13 to No. 3 in the market."

Scott had a unique, combative broadcast style that irritated many but entertained and informed another segment.

"He was a capitalist, he was into self-reliance, into Ayn Rand objectivism," Packer said. "A equals A" was one of his favorite broadcast mantras, using it to attack a caller whose opinions defied Scott's view of logic.

Scott's first stay at WXYT ended in October 1987 when he and the new owners couldn't agree on a contract. He was lured to WWJ-AM (950) but lasted only eight days there.

After stays in New York and Washington, Packer brought Scott back to Detroit in 1990.

In his run at WXYT that ended in January 2001 when the station switched to sports talk, Scott specialized in attacking the politically correct and espoused libertarian principles that the best government is highly limited government.

He vociferously defended Detroit police officers Larry Nevers and Walter Budzyn, who were convicted of beating Malice Green to death in 1992.

His wife said Scott regularly carried a handgun. "There were threats; there was danger," Leslie Scott recalled.

But his coworkers had a soft spot for the gung ho former leatherneck. WNIC-FM (100.3) morning cohost Lisa Barry, then a newscaster for WXYT, said: "He was a tough talker but a puppy dog in person. I remember one day he came in and bought Hostess cupcakes for everybody in the newsroom. We all wondered: What was he doing?"

Barry also said that Scott was a health enthusiast who used antigravity boots and studied martial arts.

Why did he end his show with "Excelsior?"

His wife explained: "With a capital E, it means onward and upward, and that was his philosophy."

In addition to Leslie Scott, survivors include four children from his first marriage and six grandchildren. A memorial is set for 7 p.m. Friday at the Griffin Funeral Home, 42600 Ford Road in Canton.
Tonight, in honor of this man, I will be listening to recordings of some of his past shows that I recorded several years ago. Reason and freedom lost one of it's most vocal proponents and I, along with thousands of loyal listeners, have lost a man of integrity.
In tribute, I end this post the way Mark would end his shows....
EXCELSIOR !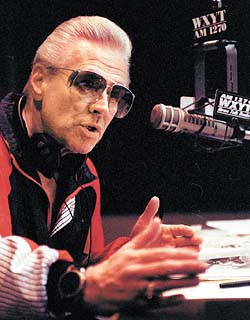 Mark Scott 1936-2005